• Botanical Art • Food illustration • Kitchen Wall Art • Magical Realism • Travel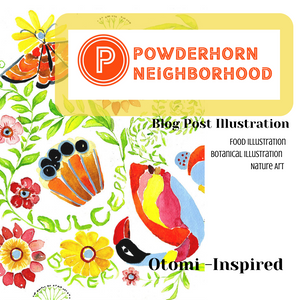 This watercolor food illustration case study focuses on Dulceria Bakery, a Mexican-American bakery located in the vibrant Powderhorn Park neighborhood of Minneapolis, MN. During the research process for this illustration project, I met with the owner  [...]
---
• Botanical Art • Food illustration • Kitchen Wall Art • Magical Realism • Travel
Case study describing the process of creating atmospheric, watercolor food illustrations for a recipe article. One full page editorial food illustrations and two spots were published in Gravy Quarterly magazine. The article told the story of the magic that happens when authentic Tex-Mex cuisine meets Indian cuisine.
---
• Botanical Art • Food illustration • Kitchen Wall Art • Magical Realism • Travel
Freelance illustrator Patricia Jacques shares an ethereal, watercolor empanada recipe illustration, plus a poster with recipe instructions to celebrate slow food and National Empanada Day.
---
• Beautiful Places • Botanical Art • Food illustration • Magical Realism • Travel
A behind-the-scene look at the making of the intricate and atmospheric watercolor mural illustration concept,
Koi Galaxy
, inspired from a slow traveler artist visits to
Como Zoo and Conservatory
in St. Paul, Minnesota.
---
• Botanical Art • Food illustration • Travel
  These days, I find myself spending a lot more quality time in my kitchen. I'm either prepping food for the week ahead or starting meals from scratch. I'm always trying out some new recipes (on the fly, mind you) and wishing I had a recipe planner to keep track of all of them. At some point, I do write them down – on random pieces of paper. The problem is that I scatter them among my cookbooks or tuck them away in notebooks. And so, they eventually get lost in the shuffle. Exhibit A: A Missing French Recipe Leads...